Clackamas Lake to Parkdale
We started where we left off yesterday, on the quiet FR 42. But after eight miles we were back on the highway, a return to the din of automobile traffic.
There's a lot of stuff that you notice on the side of the highway when you spend so much time riding on its shoulder. Patterns emerge. For instance at the beginning of most passes you'll find gloves and ski hats, lost when people were installing chains during winter. Midway up the passes you'll see bungee cords and remnants from chains that we're likely installed incorrectly.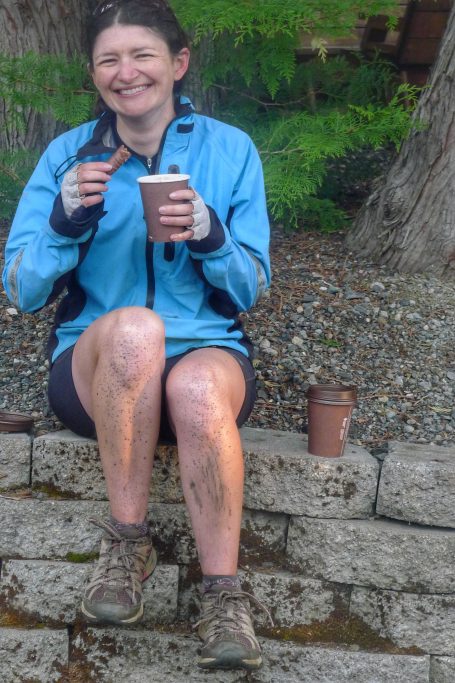 During long stretches between towns you'll find the most plastic soda bottles filled with iced tea or urine. I haven't stopped to test. On the twisty sections there are lots of those metal clips that retain hub caps. And of course everywhere you'll see shredded tires. They are the land mines you must avoid because they're lined with metal wire that will gladly pop the inner tube inside your tire.
And so we continued along the highway as it started to drizzle. When we got to the top of Bennett Pass the drizzle turned to light rain. We had twelve miles of pure descending ahead of us before reaching Parkdale. If anything was going to test our rain equipment choices this was it.
I brought a cheap O2 Rainwear hooded jacket and some wind resistant gloves and pants. Carrie had her expensive Showers Pass Elite 2.1 jacket, some nylon travel pants, and her regular short finger gloves. It wasn't a matter of who would stay dry. We both knew we were in for a soaking. It was knowing who would still be warm at the bottom.
And the verdict? Having wet feet is no fun. Our stockinged feet were swimming in our shoes. We've used waterproof booties before in combination with waterproof pants and remained as dry as one could hope. Without either the pants or booties our lower halves were cold.
Our upper halves faired better but the surprise win went to my cheap rain jacket. I wore the hood under my helmet during the descent. Rain was unable to creep down my neck and saturate my mid layer, which was bone dry. Carrie's expensive jacket without the hood allowed water to leak in. Her wind jacket underneath was wet on her chest and at the ends of her sleeves. Despite the poor fit and durability my cheap jacket played better defense.
When we arrived in Parkdale we weren't drenched but we were close. We had no desire to camp. We just wanted to be somewhere warm. As we were debating our options by the side of the road we noticed a sign for the Parkdale Inn. It had a sign out front stating that the business was cyclist friendly. Sweet. I rang the bell and Mary the owner welcomed me in. She had a room available in her b&b for $130. The price was a gut punch but the house was dry and warm and just what we needed. I went back to Carrie by the side of the road and told her the price. She felt the punch too but agreed to splurge and so we did.
That night we lived like royalty. We took showers and slipped into robes. I'd never been in a robe. Meanwhile Mary did some laundry for us while we watched a terrible movie and ate frosted shredded wheats. We cranked the baseboard heater until we were sweating in our robes. It was the height of luxury.
44 miles
Food $25.18
B&B $140