Whoa. We went crazy with the fancy food today. Maybe we felt we needed a reward for battling headwinds all day. Or maybe once I see a bakery I lose all self control. Carrie would agree it's the latter.
It all started at the town of Concrete. We needed to resupply our food rations but the little convenience store didn't open until 11 a.m. Then we passed the 5 B's Bakery and I pictured myself eating a cinnamon roll and all bets were off. We stopped and ended up ordering plates of vegetables, potatoes, eggs, and toast. Sometimes savory beats sweet. Delicious.
We then hopped on the rail trail that took us twenty miles down river to Sedro-Wooley, where we came upon the Wooley Market. At the deli they had baguettes that looked like they'd been imported from France that morning. How could I resist? We ordered a grilled veggie sandwich and split it. Delicious.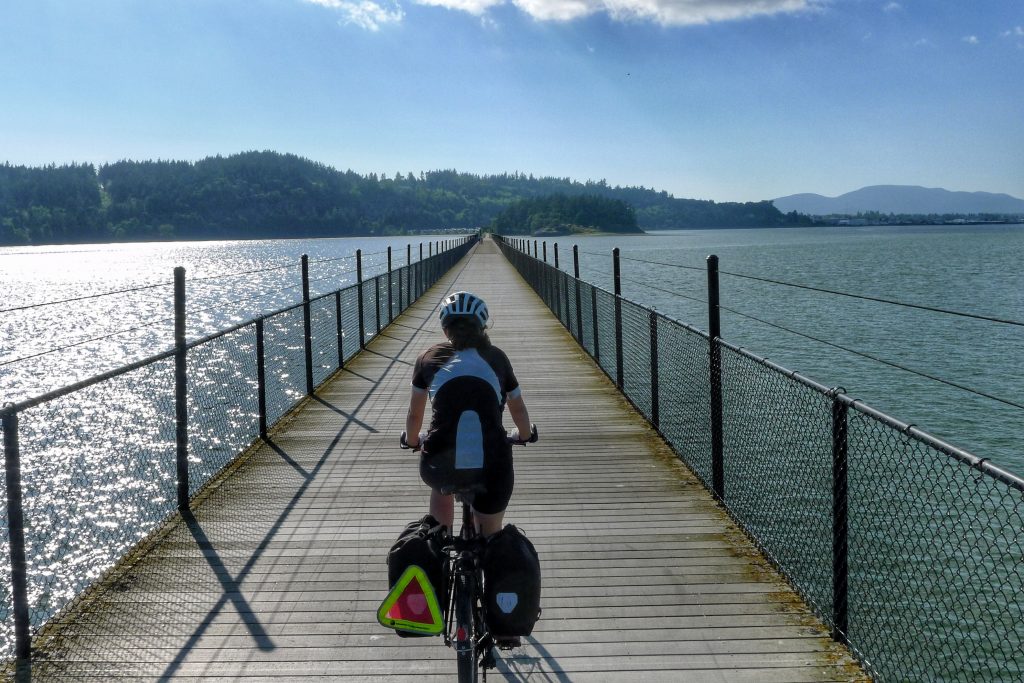 We then headed towards our Warm Showers hosts Ann and Bill who live in Anacortes. As we approached Anacortes we could feel the sea in the air. It was stickier. Denser. It felt like home, except at home we definitely don't have to worry about getting a flat from a sea shell. A local cyclist warned us that the bike bridge into town is often covered in shells dropped by birds that feed on the critters that live inside.
Ann and Bill were very welcoming. We pitched our tent in their yard and then enjoyed their company over dinner and into the evening. Meeting fellow cyclists continues to be one of the highlights of this trip.
66 miles
Food $54.14
Warm Showers $0