This was to be our big day of the trip, about 85 miles with a decent climb near the end. We normally like to cover about 50 miles, especially this early in the trip, when our bodies are adjusting to riding every day and sleeping on the ground.
To make the ride successful we made sure to ride a short distance the day before. We splurged for a motel to improve our chances of a solid night's sleep. And we locked down a Warm Showers host in Ashland for a good recovery night. Our logistical game was on point. Now all we needed to do was ride.
The route out of town was pleasant. It was great to be on a quiet, narrow, twisty road. That's the secret recipe for a tasty ride.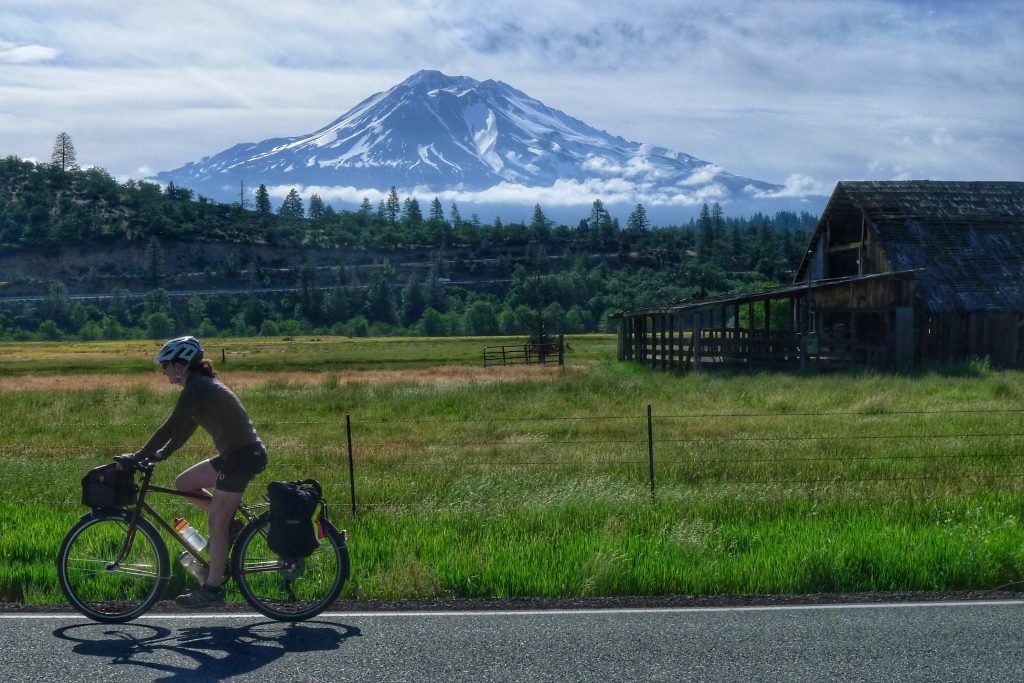 We then turned onto an old highway and our world changed. Before us was a wide ribbon of road as far as we could see in a wide, flat valley with few trees. With no protection from the trees we got our first taste of the headwind that would bully us for the next 70 miles.
Carrie tucked in behind me and off we went. We rode in our miniature paceline for a few hours, stopping at the gas station in Montague for a refuel, and then continuing to Hornbrook. There's not much left in these little towns. This seems to be a recurring theme on this trip. Abandoned storefronts, boarded houses, junked trucks, the remnants of communities that only now exist in name.
After Hornbrook we got the opportunity to join the roaring masses on Interstate 5. Riding on a freeway is not one of those bucket list experiences. If it were to be on any list, I'd include it on my "meh, I'd rather not" list, along with experiences like getting in a bar fight or participating in a magic show.
Riding on the freeway was exactly as expected. It was noisy and windy, three-gear windy. We had to shift down three extra gears to compensate for the wind resistance. On top of that it was all uphill for the nine miles we were required to ride before turning off onto the old highway.
Once we exited onto the old highway everything was better. It had the same three crucial ingredients that made the road out of Mt. Shasta in the morning so pleasant. Our reward of the ride was the descent on this old highway to the outskirts of Ashland.
It was there that we met up with Rees, our Warm Showers host. He was kind enough to ride out to meet us and to guide us to a safe landing into town and onto the patio of a local pizzeria, where the pizza and beer reverted Carrie from bike zombie to human.
Rees then guided us back to his quaint Ashland home. We had some good conversation and then fell asleep on his livingroom floor, listening to frogs croaking, sheltered from the wind.
83 miles
Food $54.28
Warm Showers host