Parkdale to Viento State Park
We hesitated to leave the lap of luxury at the Parkdale Inn. Talking off my robe for the last time was heartbreaking. Plus it was raining. Even the most hardened cycle tourist wouldn't want to leave.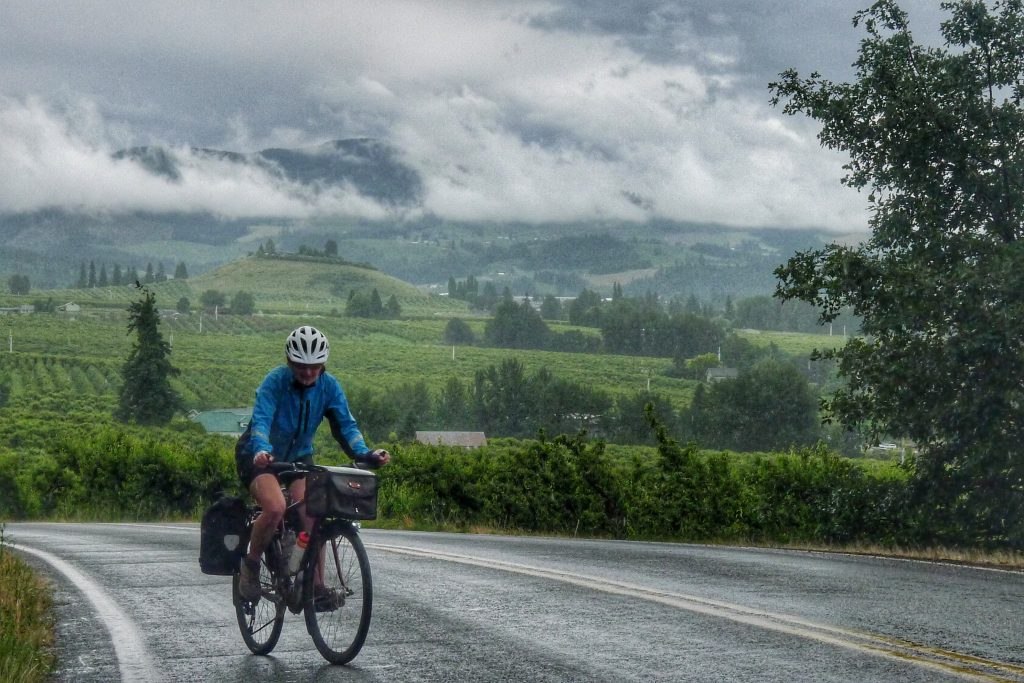 But leave we did. And soaked we got. It only took about ten minutes into our ride to hit high speeds on a three-mile downhill. But the rain subsided as we spun our way through the lovely pear orchards just before entering the town of Hood River.
In town we picked up a new gas canister for our stove. When I offered to pay cash the nice girl behind the register gave me a pair of running socks. I couldn't wait to put them on in camp. They were soft and puffy. Not as fabulous as a robe but the little taste of luxury would be nice after a day of rain riding.
Next stop was a bike shop. My rear derailleur and rear hub needed some grease to coax the squeaks away. The oil they used on the pawls of the freehub body turned my bike into a ninja. I no longer made a sound when coasting.
After passing through this busy tourist town we got the pleasure of riding on the freeway to our campsite. The freeway skirts the railroad, which parallels the Columbia River, also called the Gorge. There was once an old highway but the freeway replaced it. Plans are underway to restore the highway, which would offer a quiet alternative for cyclists to ride from Portland to The Dalles. Too bad it's not finished. The freeway was as expected terrible. Viewing the Gorge to the soundtrack of freeway noise isn't a good combination.
That same soundtrack followed us to our campsite at Viento State Park. I could've thrown stones onto the freeway from our campsite, which hands down wins the award for least peaceful campsite in existence. We live on a busy street at home and have grown accustomed to the din of motor vehicles but this was next level loud. And the crazy thing was the campground was nearly full. Who in their right mind would camp here? Well, we did, but it's common knowledge that cyclists are a bit off.
25.6 miles
Food $12.02
Bike $20
Camping equipment $6
Camping $17