Most days have some sort of theme: ride over a pass, ride around some lakes, ride through endless pine forest, etc. Today's theme was unique to this trip: ride through a river canyon.
We got going early in an attempt to avoid riding into a massive headwind that was forecasted. Headwinds are always demoralizing but headwinds through canyons can be at times scary. The canyon walls act as a funnel. The winds whip around the walls pushing you from unexpected directions.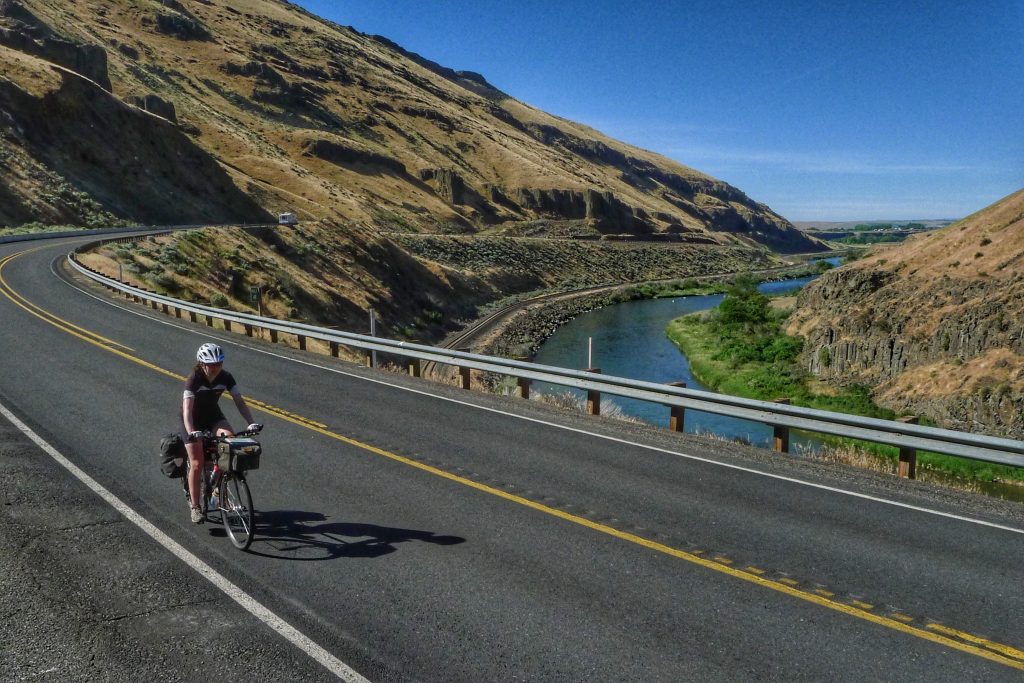 The canyon itself was fun to ride through. The walls were lined with dry grasses and basalt outcroppings. The road snaked beside the railroad tracks which snaked beside the Yakima River. This used to be the main highway but it now serves as a corridor for camping and outdoor recreation.
About halfway through the canyon's 24 mile length we were stopped by a couple whose car was pulled off the side of the road. They pointed out four bighorn sheep on the hillside across the river. The sheep were walking casually stopping occasionally to sample some grass. It was Carrie's first bighorn sheep sighting. She was excited because the sheep is Nevada's state mammal.
After we sheep watched for a few minutes it was back to the bike riding. The wind was picking up, turning a pleasant ride into a slog. By the time we reached the end of the canyon the wind was brutal. We were nearly in our granny gears on flat ground.
The last five miles into Ellensburg was a struggle. The road was out in the open in the middle of a flood plain. We crawled along and then sought shelter in the trees at a park in town.
Later that day we rode to our Warm Showers host's house, where we promptly napped. Our host Gerard made us feel at home. After dinner we walked down the street to a pub to share war stories over some local pints. Talking with our Warm Showers hosts continue to be one of the highlights of this trip.
32.6 Miles
Food $16.64 + 9.78 + 4.98 + 5
Warm Showers $0