To Raccoon Holler Campground
The unrelenting hills on the Parkway are getting the best of us. Our bodies are wearing down quicker than we can restore them with food, sleep, and Ibuprofen. Although we had no major climbs today, the constant rollercoaster of twenty minute ascents followed by two minute descents were whipping us into submission.
The one highlight was riding along the Linn Cove Viaduct. It's an engineering masterpiece with sweeping views to the east. From our vantage point it seemed that the layers of wooded ridges stretched out to eternity. It was from here that the Blue Ridge Parkway earned its name. A painter would have trouble mixing up enough blue tones to cover each ridge out in the distance.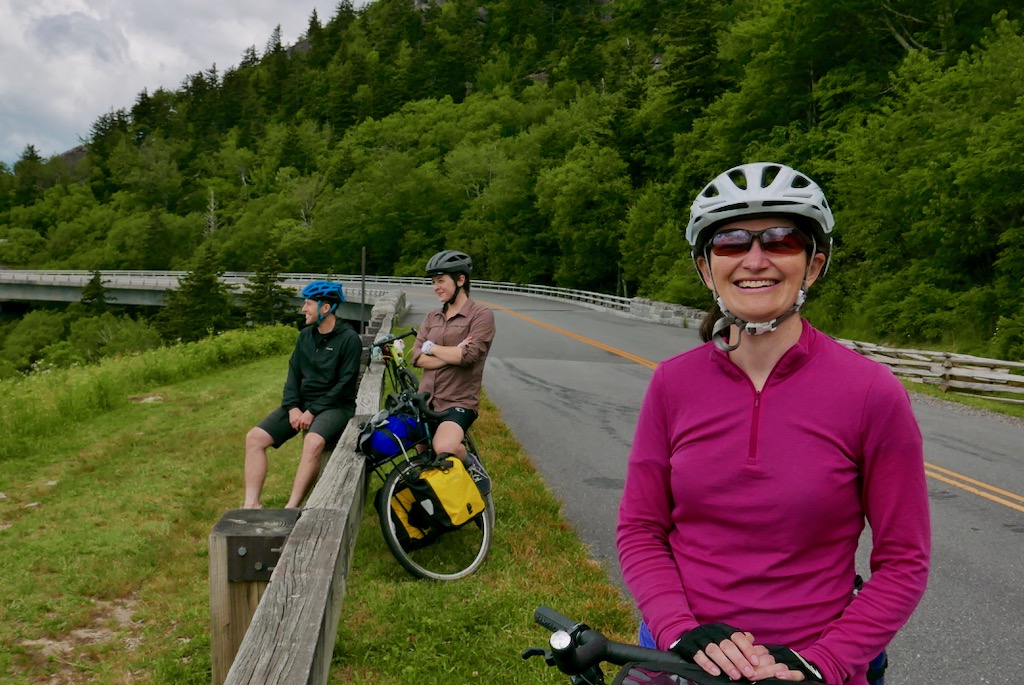 Since we rode about 60 miles, we arrived at the campground around 7:30 pm. The office was closed, and there was no campground map or any information about how to check oneself in. There were only signs stating the things you shouldn't do and a bunch of random rules to follow.
I hailed down an elderly gentleman on his way to his RV to ask about tent camping. He told us we could camp over on this windswept hill with no bathrooms or any facilities nearby. Our whole group was not jazzed but we were tired and hungry.
We pitched our tents on the flattest portion of the hillside and attempted to cook dinner on the seriously sloping picnic table before retreating off the hill next to a massive BBQ grill. After dinner Collin and I strolled through the nicely forested and far flatter area where all of the RVs were parked and came across some excellent tent sites. So we repacked our bags and rolled the circus to a far better area to camp.