Spanish Creek Campground to Chester
Rain was forecasted for the morning, so we took the liberty of napping after waking up from sleep. Let me tell you that a post-sleep nap is a wonderful thing.
Once the rain subsided we dragged ourselves out of our tent and into a new day of riding. It was hard to leave our campsite at the Spanish Creek Campground. We practically had the place to ourselves, and our campsite overlooked the pretty Spanish Creek.
Our plan was to deviate from the Sierra Cascades route in order to ride around Lassen Volcanic National Park. The main road through the park was still buried in snow. We were forced instead to bypass the park by using Highway 44 to the east. To get there we opted to camp east of Chester.
On our way to Chester we rode through a couple of light rain showers. Carrie was ruing the decision not to bring rain pants. But the rain was never heavy nor prolonged so we only got damp. Damp doesn't demand rain pants.
We were warned that this section of road was dangerous for cyclists because of the narrow, twisty road and heavy logging traffic. We guessed that heading north however would be fine because most of the trucks hauling logs would be headed to the mill in Quincy. Our guess turned out to be accurate. Northbound traffic was light and only empty logging trucks passed us. There was also a decent soft shoulder as a bailout when logging trucks occasionally passed us in both directions at once. We agreed that riding southbound would be frightening.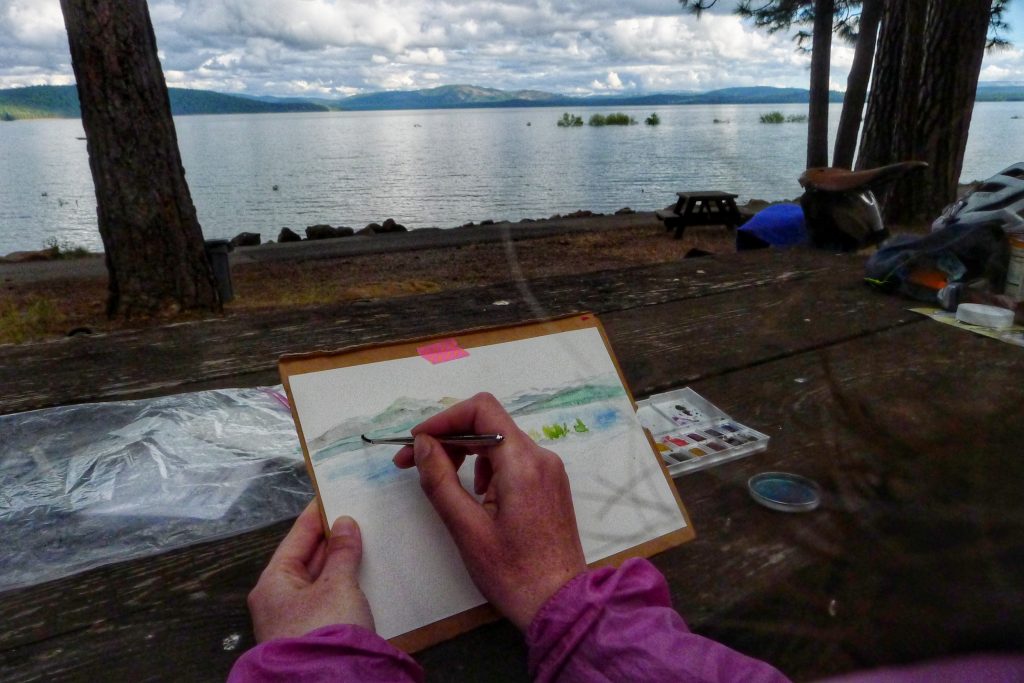 We made camp at the North Shore Campground just east of Chester. The receptionist lady smiled when she told us it was going to be $39 to pick our tent for the night. And it didn't even include showers, which required that we buy tokens. This is officially the most we've ever paid at a campground, surpassing the campground outside of Geneva, Switzerland, one of the most expensive countries in the world. At least we got a quiet site with a beautiful lake view.
44.4 Miles
Food $25.89
Camping $42!?!